In a disturbing manner, the official Enrique Iglesias YouTube channel copies enr7que, a fan channel. Let's start from the beginning.
I'm Enrique's fan since 2001. Since then I've been collecting Enrique videos and audios just because I loved Enrique. In 2006, shortly after YouTube came around, I started to think it would be cool to share my videos. I guess one of the reasons was that I wanted people to know how great Enrique is. Mostly, I wanted people to know how great he is as a musician. You know, at that time, many people viewed Enrique differently. The infamous 2000 tape of allegedly Enrique singing "Rhythm divine" live to a playback played a role here. So I guess I wanted people to know this is bullshit. And, of course, and most importantly, I wanted to share my favorite videos with the fans.
So in 2006 I started sharing some Enrique stuff on my personal YouTube channel. It wasn't easy back then. YouTube was new and the music corporations didn't quite know how to handle it. Until they figured out it's the right way to for example allow fans to do montages with copyrighted music, such videos were often "muted" or just completely removed. But I was determined to share my videos and I had my ways of dealing with this. Back then I also discovered I actually like editing videos. First video I've ever made was a montage to Wish You Were Here (with me). I made it in Windows Movie Maker ;-). You can watch it (re-uploaded in 2011) here:
In 2007 I thought I should start a channel dedicated to Enrique, instead of posting videos on my personal account. And that's when enr7que was born.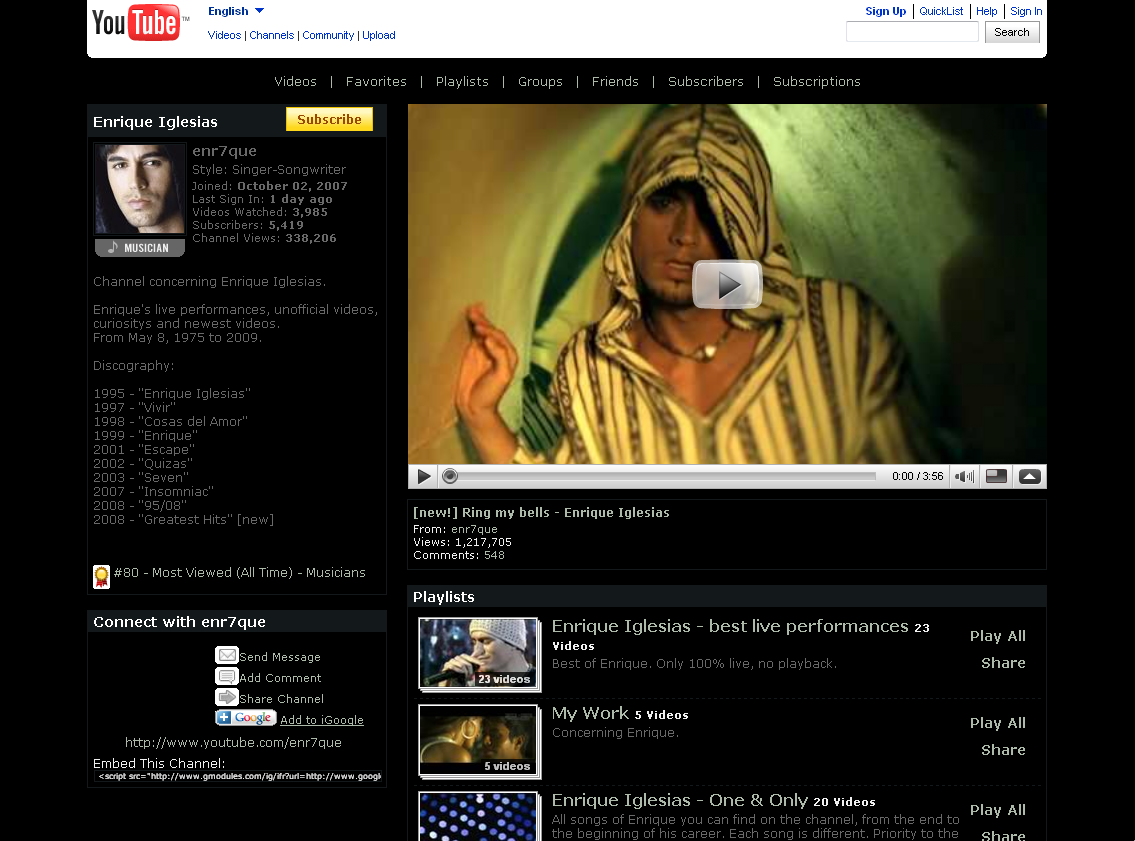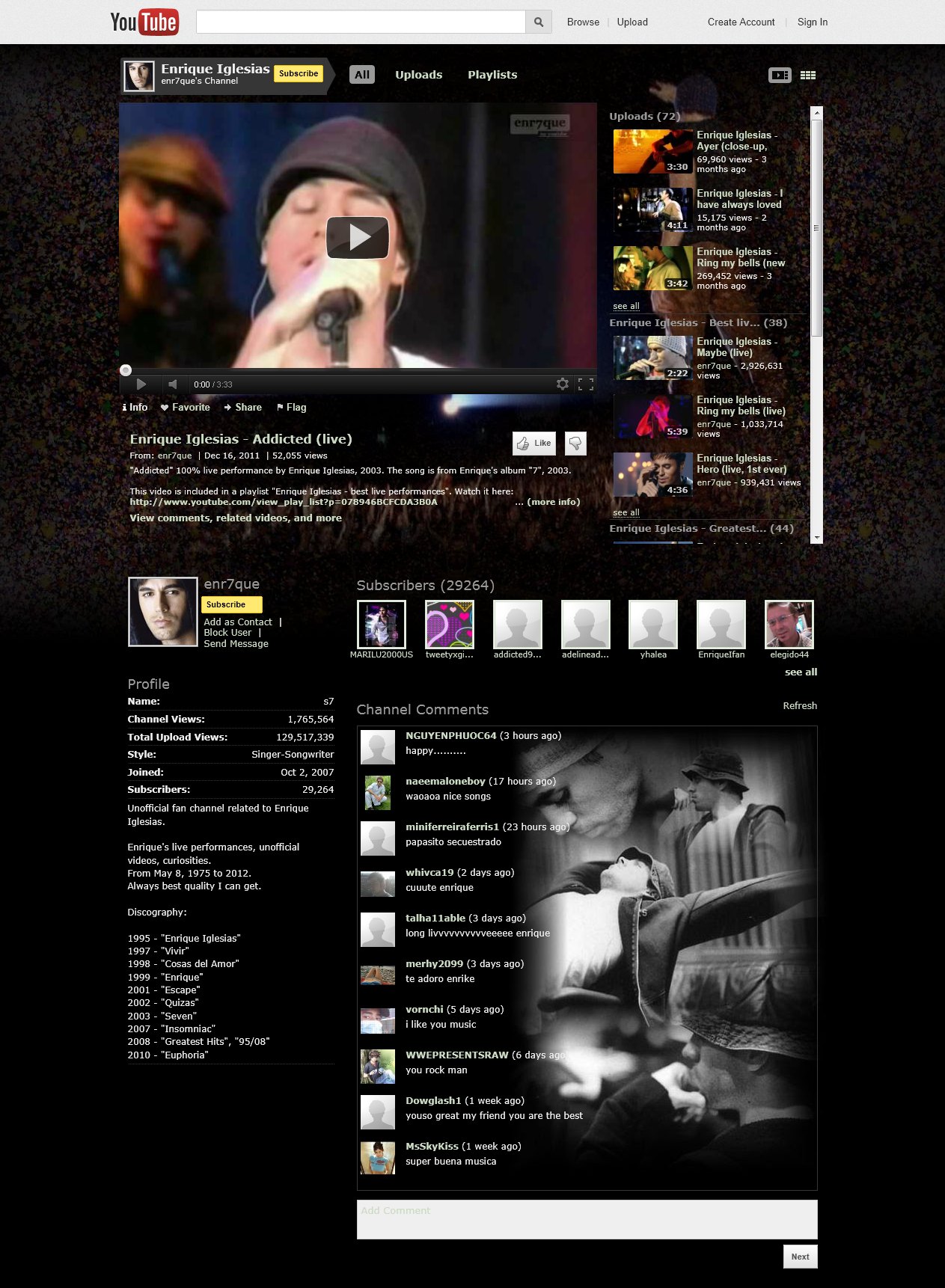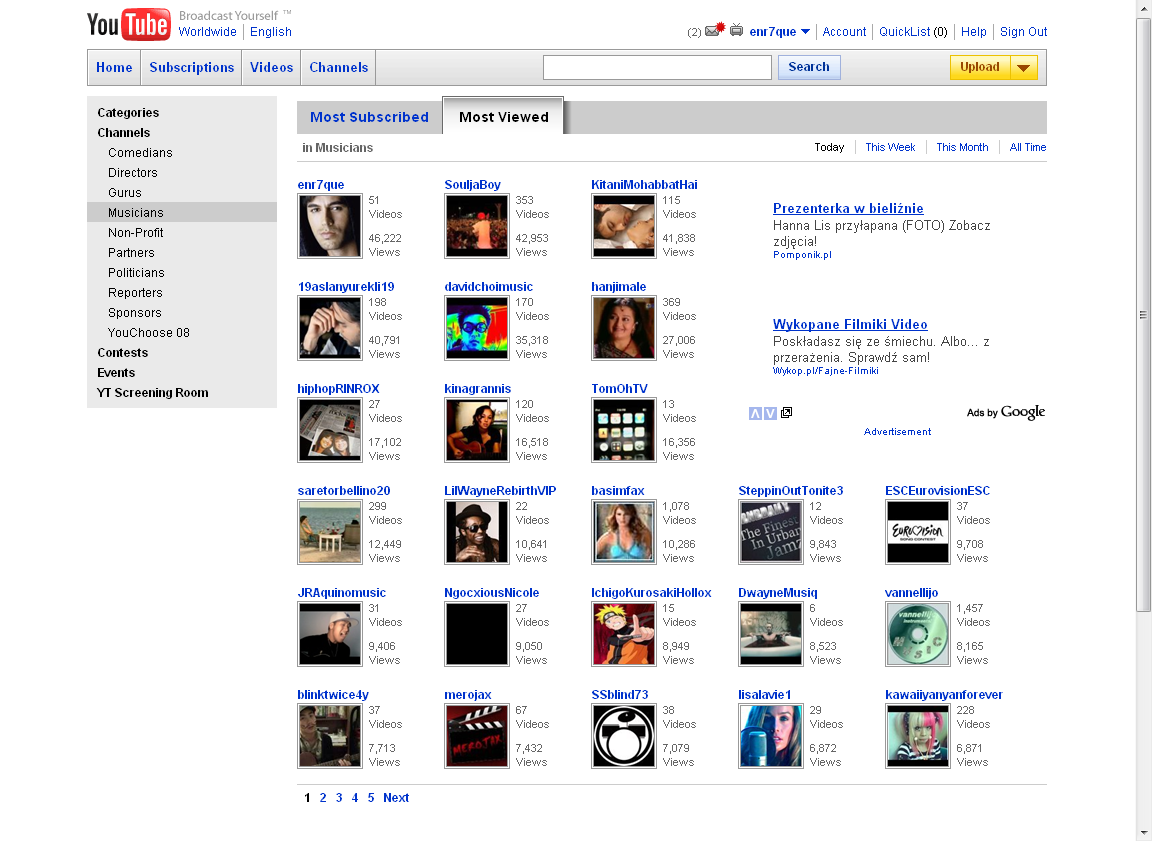 From the start, the channel had great success. Important factor of this success was the video I've made to my favorite song ever, Ring my bells. The version 1.0 is unfortunately not available anymore (the sound was disabled due to copyrights), but in 2009 I've created a new and a much better version (3.0) that is approaching 50M views at the moment. In 2011 I've improved the 2009 video and released the final version, here.
Anyway, to not bore you with too much detail, during all these years I've learned a lot about making a YouTube channel and video editing, bringing a lot of great live performances and unofficial videos to the fans. I think the channel generated thousands of true Enrique fans. In 2012 the official team Enrique contacted me. They thanked me for the great job, asked for some tips, and on a couple of occasions they asked for help, which of course I did. It was very nice to be appreciated by the official team.
But let's finally get to the point. A few days ago I've noticed that the official Enrique channel, EnriqueIglesiasPlay, has suddenly started copying my channel. Seems like they're copying everything except my unofficial music videos, that is live performances, interviews, etc. They're copying 5-6 videos a day or even more.
This is of course disturbing. They didn't let me know they're going to do something like this. And yes, I'm only a fan, I don't "own" these videos, but I spend tremendous amount of time bringing, editing, improving video and audio quality, or tagging these videos. Even if you're the official channel, if you think you can simply copy someone's work like this and be OK, that's not how it is.
It would be a completely different thing if they asked. "Listen, we would like to create a backup of your channel's videos, can we do this?" But they didn't. And we don't know their intensions. Do they want to create a backup? Do they want to destroy enr7que? Destroying enr7que would really be the worst possible move for the fans and for Enrique.
Or maybe they think that copying these videos would simply bring Enrique additional views, without any negatives. Maybe they only want to promote the upcoming Europe tour? But do they really know what they're doing? If so, why are they copying old videos of live performances that at the time wasn't available in HD for the fans, or even YouTube wasn't available in HD. For example, why do they copy this low-quality "Hero" performance from Belfast 2007 instead of uploading it in HD? What's the point? This concert is available in HD for a long time. Or, why do they upload the exact same performance of "Ring my bells", one in low quality and one in HD (with an intro I've made). Or why do they flood their subscribers with 5-6 videos a day? If they know anything about YouTube algorithms, they know these videos will most likely "die" at 15K views or so.
And there are a few other questions that basically imply one answer: either they've been hacked (which doesn't look so), something really strange happened, or the official channel is being run by an incompetent person or team. And I'm very sad to come to this conclusion because I want only the best for Enrique. I don't think anything similar ever happened in the history for an official channel to start copying a fan channel, and in such manner. They didn't let me know, they didn't reply to my email. The fans should be encouraged to create, not copied without a word.
This whole situation is very strange indeed. Maybe it would be worth to deliver this news to Enrique? Enrique is obviously a very busy man and I don't think he follows the YouTube stuff very much. But I think he deserves to know what's going on. He deserves to know his YouTube channel can be run much better than this. Contact me, Enrique.
You can help to deliver this news to Enrique. The special URL for this news is enr7que.com/deliver-to-enrique - Tweet it to Enrique at @enriqueiglesias or post a comment on Enrique's Instagram.
Share this news on your social media. Use the buttons below.
You can also send me your thoughts directly via email or post a comment publicly on this video:
For now, the joy of creating the channel and making new videos has been taken away by these actions. But I certainly hope this is not the end of enr7que. This channel is a part of my life and I still have a lot to share with you guys, which I love doing. Hope to see you soon!